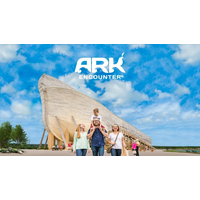 Dear Friends of the CCBF,
Greetings in the Lord! My name is Calvin Smith and I am the Executive Director and Speaker for Answers in Genesis Canada. AiG Canada just launched in 2018, and so to further impact Canada for Christ, we have partnered with the CCBF to share the ministries presence here in Canada and wanted to bless the CCBF members in a special way.
We are offering all CCBF members to be part of a special trip to the fantastic Creation Museum (world-class displays showing biblical history) and Ark Encounter (life-size Noah's Ark) in the Cincinnati/Northern Kentucky area for a private behind-the-scenes event. The dates are Thursday July 18 (evening) - Saturday July 20, 2019.
Included in this trip are;
-two free tickets to visit the Creation Museum
-two free tickets to the Ark Encounter
-free dinner at the Emzara's Buffet restaurant on-site at the Ark Encounter
-a behind-the-scenes tour of the Ararat Zoo and Horticultural Centre
-a behind-the-scenes tour of the Ark Encounter
-a private presentation from our Founder Ken Ham
-V.I.P. early admittance to the Ark Encounter on Friday morning (1 hour early/avoid lines)
-free lunch at the Creation Museum
-special events at the Creation Museum on Saturday
Since opening in July of 2016, over 1 million guests have come from around the world to visit the Ark Encounter. Overtly Gospel themed, at peak season, Ark Encounter regularly gets over 6,000 people per day coming to visit (and this has provided a dramatic increase in attendance at the Creation Museum- more than double!), and we estimate 30% are unsaved. So, we praise the Lord for His provision and making these evangelistic outreach attractions a reality! We remain continually amazed and humbled by the number of souls we can impact for the Lord through these two amazing attractions.
This private behind-the-scenes experience for CCBF members will be an exciting time of fellowship along with:
Special guests and presentations

Self-paced tour time

Behind-the-scenes tours and activities

Cutting edge ministry partnership opportunities
I'll also be there to share an "insider report" about how the Lord has allowed tremendous growth and impact in the Canadian ministry landscape already, our future expansion plans and much more! I will also be sharing more details about the great opportunities to further partner with us on the expanding evangelistic outreaches across Canada. Enclosed you will find a tentative itinerary of our plans for this amazing weekend together!
Participants will need to arrange their own transportation, accommodations and other meals (other than Friday evening and Saturday lunch). We have a block of rooms reserved at Marriott Cincinnati Airport 2395 Progress Drive Hebron, KY 41048, please call and reference 'AiG CCBF trip' for your preferred rate. Your can also visit https://arkencounter.com/visit/for other hotels and helpful ideas to plan your trip.
To RSVP for this private, behind the scenes event, please go to https://www.eventbrite.ca/e/aigccbf-trip-tickets-54850251579 (please do not sign up unless you are sure you would like to participate [barring a last-minute emergency] as we will need to know exact numbers to facilitate meals and passes etc.).
To ask questions, please contact me via email: calvins@answersingenesis.org. I hope you can join me for this truly memorable experience.
Sincerely in Christ,
Calvin Smith
---